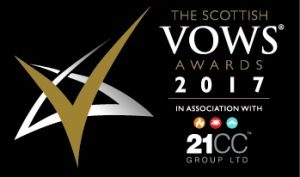 The Scottish VOWS Awards are back for 2017 and we want to hear about the people who made your wedding experience truly fabulous.
To nominate your favourite four wedding suppliers, your wedding date must be between 1st June, 2016 and 1st September,  2017 to qualify.
One voting application per wedding will be accepted.  In the case of duplication's, the first nomination will count.
Voters may only vote for suppliers that they used for their weddings. Votes received from couples will be checked and verified.
Voters who are married outwith Scotland but use a supplier based in Scotland are eligible to vote.
Voters may vote for up to four suppliers but they can only vote once for each supplier.
Good to go? Please fill in your details, then click vote for your suppliers and rank these in order or preference with Nomination 1 being your absolute favourite.  
Then on "Nomination 1", "Nomination 2" etc to open each form and nominate up to four suppliers. If you can't find them, we will automatically ask you to suggest a new supplier.
Please remember to leave a testimonial for each of your nominations.